The ultimate way to relax in 24 hours in Sonoma County
I was going to title this, so you have 24 hours in Healdsburg, but we started our adventure on the Sonoma coast, so I have to say the whole county.
Have you ever been to Napa? I have. And all I have to say is that it is overrated compared to Sonoma.
There are still a ton of wineries, hills, gorgeous valleys, places to eat, things to see, and it's more family friendly. Although, we did not go with Braedon this time. It was mommy's birthday outing!
First things first, even if you are only going for a night, be sure to call and make reservations at a B&B quickly, they tend to run out of space fast, but they are the best and most relaxing places to be. I'll explain more later.
We start our journey out by dropping our son off with our friend and picking up a zipcar. We are already about an hour behind schedule, in my mind. (I know, so relaxing, having a scheduling and worrying about if you're on time.)
We start our journey, over the Golden Gate Bridge, leaving the fog behind us.
If you have 24 hours in Sonoma county, the first thing that I say to do is to go to Bodega Bay. There are several reasons for this, but the most important is Spud Point Crab Co. Here you will grab lunch, best thing they have? Clam Chowder! 2nd best? Crab cakes.
You can eat there on the patio, but most of the time it is full, so we decided to take it to go and eat in front of the marina. It was gorgeous, looking over the Sonoma Coast and seeing mountains behind. It is somber, relaxing, and a perfect place to snuggle up next to a loved one for lunch.
The clam chowder is perfect, the best this side of New England. It's the perfect blend of potatoes, cream, clams, bacon, and magic. When you take your first bite, you will feel how decadent it is on your tongue, the slight saltiness will hit your tastebuds first, then the sweetness of the cream and clams. Savor this bite and let it warm you up from the inside out. This is your first taste of Sonoma.
But, don't forget to grab the crab cakes, as it is Spud Point Crab Co. These cakes had the most crab that I have ever seen stuffed into them. They are served with a red pepper aioli which tames the sweetness of the crab. Add a little lemon on top and you have the trifecta of flavors; bitter, sweet, and spicy. This little shack has a way with flavors that most Michelin Star restaurants have failed to obtain.
Get back in your car and take the scenic route through the hills of vineyards and farms. Try to stay off of the main highways, because you're now in the country, why do you want to see what you see everyday in the city? Plus it takes less time to go through the small towns and vines.
You get to Healdsburg, one of the cutest little towns in the world. Catered to people who want to enjoy food and wine.
The square is full of little shops for family, for wine, for books, for pretty much anything you want. And you want to explore.
We stayed at Grape Leaf Inn in the Mourvedre room. I highly recommend this B&B and we will definitely stay in it again in the near future. The room was at the top of this century old house. When you look out the window, you see the yard, big trees, and cute little flowers.
The bed was big, soft, and comfortable. It is definitely somewhere that you can fall asleep easily, but not yet, there is so much more to do!
The bathtub is huge and has jets. And let's not forget the fireplace. This room is perfect, especially for a romantic getaway.
After you check in, you can come back for cheese and Wilson wine from 5pm-6pm. This gives you enough time to walk to the square and do one wine tasting.
My favorite winery on the square is Stephen and Walker. I was a wine club member there several years ago and I swear to you, their wine has just got better.
Walking in, it looks like every other winery on the square, but it's not lit like a bar, there is actual light. Two women will greet you like they have known you forever.
Their tasting is $10 and comes with cheese if you want it or free with club membership or purchase.
Of course they start off the tasting light and then you end on the hardcore stuff. But if they have it, I suggest you taste the 2014 Cabernet and their award winning Chardonnay.
The Chardonnay is a beautiful golden color and has hints of honey. This is not something that you chug, but something that you sip on while you are relaxing. You will want to buy this Chardonnay because it is unlike anything you have tasted before. And, if you are like me, you have tasted a lot of wine.
You buy what you want or don't and head back to the B&B for wine, speakeasy, and relaxation before dinner.
Why yes, I did say speakeasy. The B&B has a speakeasy in the basement. It is super neat, although we did not try a cocktail, they say that Angie makes a good one.
We grab our glass of wine and try the cheeses. We decide to take it outside, as the weather is perfect. It's warm, but not too warm, and definitely does not have the cold wind that San Francisco does.
If you only have 24 hours, you have to remember not to pack too much in. This should be relaxing after all.
Make a reservation for Dry Creek Kitchen at 7 and sit outside. The sun is beginning to set, but that's okay, because there is plenty of light on the patio. We opted not to do the tasting menu, but order our own 'tasting' menu.
They give you a fresh soda bread, straight from the oven. It is full of herbs and butter. You can feel your waistband expanding just from this bed, but it's so good that you don't want to stop eating it.
Start off with the scallops and the tuna tartar.
Scallops are perfectly cooked, in a salty dressing, and they just melt in your mouth upon impact. (I am literally drooling right now thinking about this scallop.)
The tartar is amazing. It is stacked high upon a bed of avocado, served with crackers, this is one of the most beautiful things that I have ever seen. The colors are gorgeous. It was almost too good to eat. But then you do.
The tartar is perfectly seasoned, after your first bite, your eyes roll in the back of your head and you just know that this is going to be the perfect meal.
Main course is up next. They have a wonderful selection and unfortunately Gareth and I wanted the same thing, but it was my birthday so I got it, not him.
He got the fillet and he wanted it cooked more on the rare side of medium rare. As all fillets, it is served with potatoes. When he received it, it was cooked rare/rare, but that was okay, because it was a really good cut of meat. Juicy, buttery, seared to perfection.
I got blood orange roasted duck, with foie gras farro, and fried duck skin in a blood orange salad. I won.
This was the best duck that I have ever eaten. It was served at a medium doneness, but the skin was crispy and delectable.
The bitterness of the blood orange takes away from the gaminess of the duck and the richness of the foie gras. I pretty much licked my plate clean. I highly highly recommend this dish.
And to finish it off, you have a dessert. All of the desserts look lovely, but Gareth and I decided to split the pot de creme. When they brought it out, they had made it special for my birthday. I almost cried, it was so gorgeous.
The best thing about pot de creme is that it is usually cut with a fruit of some sort, here it was cherries. They were perfect.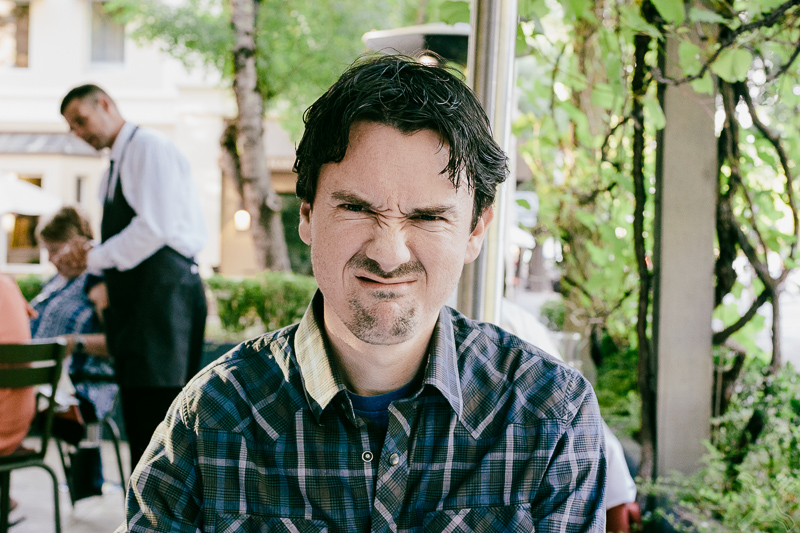 Since it's still fairly early, stop by Bear Republic, sit at the bar, and have a craft beer, because you can't have wine all of the time. Their Racer 5 IPA is my favorite, but Gareth got an amber that was balanced well and had the perfect head.
Go back to the B&B, sit under the stars, drink a glass of wine, and take a bath.
Wake up for breakfast and get ready for your last few hours in this beautiful little town.
Walk around the square and take advantage of all the little stores. (We mostly bought baby stuff, but that's because we are new parents.) And then when you are finished end your trip with a picnic lunch from Oakville Grocery.
They have a lot to pick from, but we just stuck with their hot sandwiches, which were so good, that I forgot to take a photo of them.
A little picnic is the perfect way to end your journey away from home. The air feels different there, more relaxed, like you can let all of your worries go, and just focus on your breathing, your mental stability, and the food on your palate.
If you find yourself in Sonoma County, follow this itinerary for one of the best days of your life, I promise!
Come back Monday for a pork belly risotto and the stress of my move!