A Risotto to Celebrate New Beginnings
Moving has made me start thinking about new beginnings. And how many times I've started my life over.
The biggest new beginning was, of course, the birth of my son.
But even before that, between moving states, careers, going to graduate school, to undergraduate, to getting married, and divorced. My life has been a series of new beginnings. A series of trying to figure out how to do everything over again.
I know that sounds really harsh, but it's reality. You spend all of your time doing something, with someone, at a specific place and then boom, it's taken away from you. It gets scary.
I have spent my entire life being scared of losing everyone in my life, scared of letting go of the past, and not knowing how to live in the present. I feel that during the 8 months before Braedon was born and the past 10 months, I have learned to let a lot of this go. You have to live in the present and to treat each day as if it is a new beginning.
To him, every day is completely new. Every day, he learns something new, experiences a new taste, texture, sight, or sound. That should be us. We should embrace it each day.
I embraced this move, I made the house seem like it was mine, which is something that I've had trouble doing in the past.
Instead of hiding in my corner, I put parts of my personality everywhere, because it's time for me to start again. I need to be able to be myself and express my love through everything, not just food.
I made us a special meal to celebrate our new beginning. It was a seafood paella risotto. I wanted something that I loved from my past, but something new and exciting. I came up with this recipe to really embrace all of the changes happening around us.
I put a lot of love, passion, and thought into my recipes, in hopes that you can feel it when you taste my food. I believe that it came out with this meal.
I hope you enjoy this recipe!
Seafood Paella Risotto
Ingredients
2 Tbs olive oil

1 small yellow onion- chopped

1 Red Pepper- chopped
2 8 oz bottles clam juice
1 Tbs Saffron
3 cloves garlic chopped
1 Tbs Cardamon
2 Tbs Paprika
1 Tbs Coriander
Salt and pepper to taste
4 small tomatoes chopped
3 lemons
1 cup arborio rice
1/2 stick butter
1/2 cup frozen peas
1/2 cup red wine
1/2 lb of white fish, I used halibut.
1 lb shrimp peeled and deveined
1/2 lb scallops
2 lbs clams
Directions
In a large pot head olive oil
Add chopped peppers and onions- saute until translucent
In a medium pot boil clam juice, 1/2 of all of the spices with a dash of salt and pepper, and one lemon juiced
Add rice to peppers and onions- saute for about 7 minutes or until the rice starts turning a golden color
Add frozen peas
Reduce to a medium low heat
Stir in wine until completely absorbed
1/4 cup at a time, stir in clam juice until completely absorbed
In a medium sauce pan melt 1/2 butter over a medium heat
Add in tomatoes and cover, stirring, releasing all the liquid, add 1/2 of garlic and 1/2 lemon juiced
Use a potato masher to mash the tomatoes and sit to the site
Melt the rest of the butter, add lemon, the rest of the garlic
Season shrimp, scallops, and halibut with the rest of the seasoning
Quickly saute outside of shrimp, scallop, and halibut to get a nice color
Add tomato sauce into risotto until completely absorbed
By this time, you should be out of the clam juice and most liquid should be absorbed into the risotto- add in the shrimp, halibut, and chopped scallops- cook for about 8 minutes
Bring to medium low head, add clams, cover and allow to steam for about 15 minutes or until all of the clams have opened.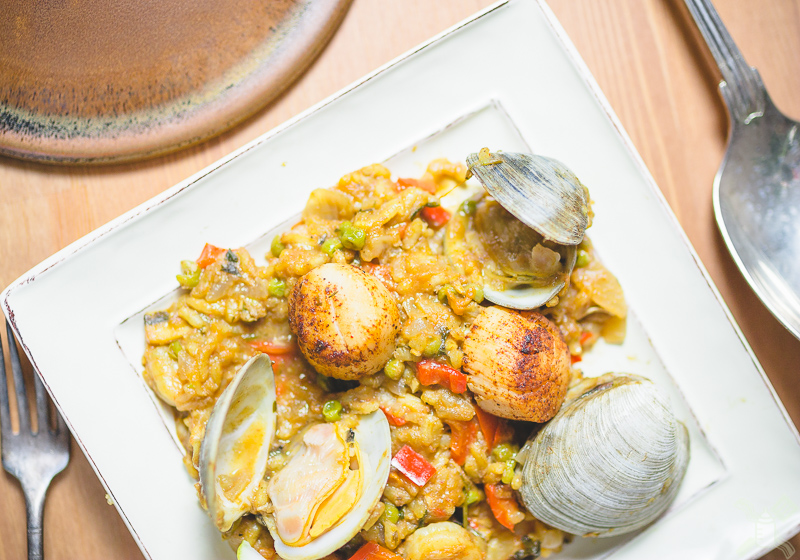 Having moved, having a work station, having more organization, I am getting back to my normal Monday- Wednesday- Friday routine! Yay! I will also be more active on all of my social media, so come and check them out! Instagram, twitter, pinterest, and facebook are the best places to find me.
You can also subscribe to get updates from the blog!
Have you had to start over lately? Were you scared? What's something that you do to make the change better or to embrace the present?
Come back on Wednesday for Part 2 of my "Eating in the Middle," cookbook series!
#MomNoms