Instant Pot Swedish Meatballs
I still cannot believe that I am blogging again. Not that I swore it off or anything, I just never thought that I would get organized and motivated again to do this.
I mean, I really love blogging and what goes with it. I love creating recipes for more than just work and I really love sharing them with people who might need something different for dinner.
Depression is a major motivation suck. If you have ever been through it and came out the other side a better person, I commend you. You are an amazing person and you deserve all the meatballs and pats on the back.
I don't know how I made it through the last couple of years, it has been really hard for me and my family, but we did it and we are stronger for it.
I am going to be throwing another amazing Instant Pot recipe for you. This tool is literally one of the best things that I have ever found in my home kitchen.
A lot of these recipes have been changed from a manual pressure cooker that I've used in the professional kitchens that I have been in and fixed to fit into the Instant Pot perfectly.
My family loves meatballs, any kind of meatballs, we are so there.
with a deep beef and mushroom gravy to go on top. Let me tell you, I have succeeded completely.
These meatballs have a rich flavor, go well over potatoes or noodles (I always choose noodles) and remind me of what my grandmother used to make me as a child.
The best part of these meatballs? They take less than 30 minutes to make and while they are in the Instant Pot, you can make the noodles to put them on.
From fridge to mouth in half an hour, perfect for busy families!
Instant Pot Swedish Meatballs
Krysten
Published 11/07/2018
Ingredients
1 lb ground beef
1 lb ground pork
4 cloves garlic minced
3 cups panko
2 eggs beaten
½ cup milk
½ tsp allspice
¼ tsp nutmeg
1 yellow onion finely chopped and split
2 tbs olive oil
1 lb shitake mushrooms sliced
¼ Cup White Wine for Deglazing
2 ½ cups beef broth
¼ stick butter
Salt and pepper to taste
½ cup heavy cream
3 tbs AP flour
Parsley for garnish
Instructions
Combine lamb, beef, ½ cup onion, panko, milk, eggs, allspice, nutmeg, 2 cloves garlic, and a pinch of salt and pepper
Form balls and set aside
Put Instant Pot on Saute mode and add oil, wait for it to say 'HOT' and add meatballs, brown each side for 1 minute, set aside. (Repeat for all meatballs)
Add in the rest of the onions, garlic, and mushrooms and saute for 5 minutes. Deglaze with the wine and take off of saute.
Put broth, butter, meatballs, and a pinch of salt and pepper into the Instant Pot
Place lid on, put on manual high for 6 minutes, natural release when finished.
Take out meatballs, put Instant Pot on Saute and whisk in the flour and cream until smooth. Add extra salt and pepper if needed.
Serve over egg noodles with a little parsley.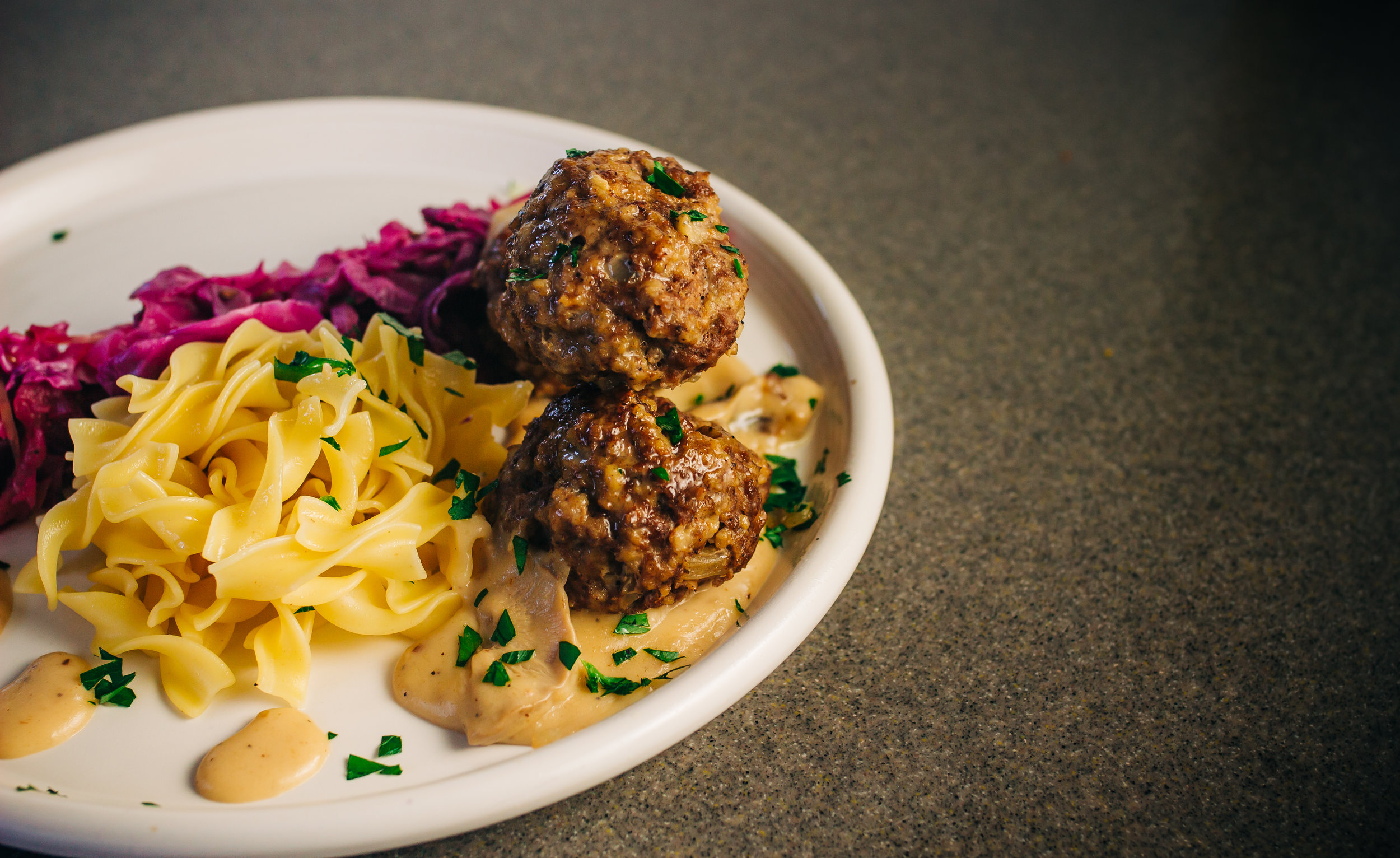 If you are looking for instruction video on how to make these, go to my Twitch page, I will start making quick highlights that will get you through the recipe!
And follow me on Instagram and Twitter for more small recipes that I randomly post throughout the week and to know what is coming up on the blog!