Instant Pot Chili Garlic Chow Mein
Thursday!
The week is almost over! I am so excited for the weekend, I'm not sure why, I'm not really doing anything this weekend. I guess it is because I do not have anything planned for the first time in a while.
I am not really a person who likes planning things to do. I would rather stay home and create food and play with my kiddo. And maybe watch a couple movies while doing those things. I have the best excuse to watch Disney movies now, a 3 year old.
This week has been a heck of a week for me, I feel like I have been rushing through everything and never really finishing what I started or doing as much as I need to do.
I have forgotten to eat a couple days too.
Do you ever do that, you get so busy that you forget to eat breakfast or lunch and then wonder why at dinner you are so hungry?
Luckily today, I decided to put it in stream that I was going to have something for lunch. I wanted something very quick, because while I'm streaming I don't have that much time, but also super tasty.
I have been obsessively buying Chinese food from a little shop downstairs lately, it's like $20 every time that I go in and I really do not have that much money in my pockets right now.
So instead of doing that, I wanted to mimic one of their best dishes
But not only did I want to mimic the actual dish, I wanted to see if there was a way to do it faster and still really create those amazing flavors. So I decided to do it in the Instant Pot.
I bet you guys are tired of all my Instant Pot recipes, but seriously this is one of the best tools that I have had in a long time.
I think next I'm going to do some sous vide recipes or something equally as fun for ambitious home cooks and professionals alike.

I decided to mix this chow mein up though. I added a ton of veggies to it and grilled up a steak to serve on top. God, let me tell you this is mouth watering!
Instant Pot Chili Garlic Chow Mein
Krysten
Published 11/08/2018
Ingredients
8 oz Flank Steak
2 tbs olive oil
1 Yellow Onion Chopped
3 cloves garlic minced
1 yellow bell pepper sliced
1 green bell pepper sliced
1 red bell pepper sliced
½ lb brussel sprouts sliced
1 lb Soba Noodles (can use spaghetti noodles if need)
2 tbs Garlic Chili Paste
½ tbs Sriracha Sauce
2 tbs low sodium soy sauce
2 tbs brown sugar
¼ cup rice vinegar
1 tbs sesame oil
2 cups chicken broth
Salt and Pepper to taste
Peanuts, crunchy chow mein, and green onions for garnish
Instructions
Sprinkle steak with a pinch of salt and pepper, put oil in Instant Pot and put on Saute. Cook each side of the steak for about 45 seconds to a minute
Turn Instant Pot off, add broth, noodles, soy sauce, onions, garlic, chili paste, Sriracha, Brown sugar, rice vinegar, sesame oil, and a sprinkle of salt and pepper
Put a divider into the Instant Pot, get a piece of foil and put all of the vegetables, a sprinkle of oil, salt and pepper in it, wrap it up.
Place the foil pack on top of the water mixture. Turn Instant Pot on Manual High for 8 minutes
Quick release when finish, do not Natural Release or you will overcook the veg and noodles.
Mix the foil packs with the noodles
Serve with peanuts, green onions, crispy chow mein, and more garlic chili paste!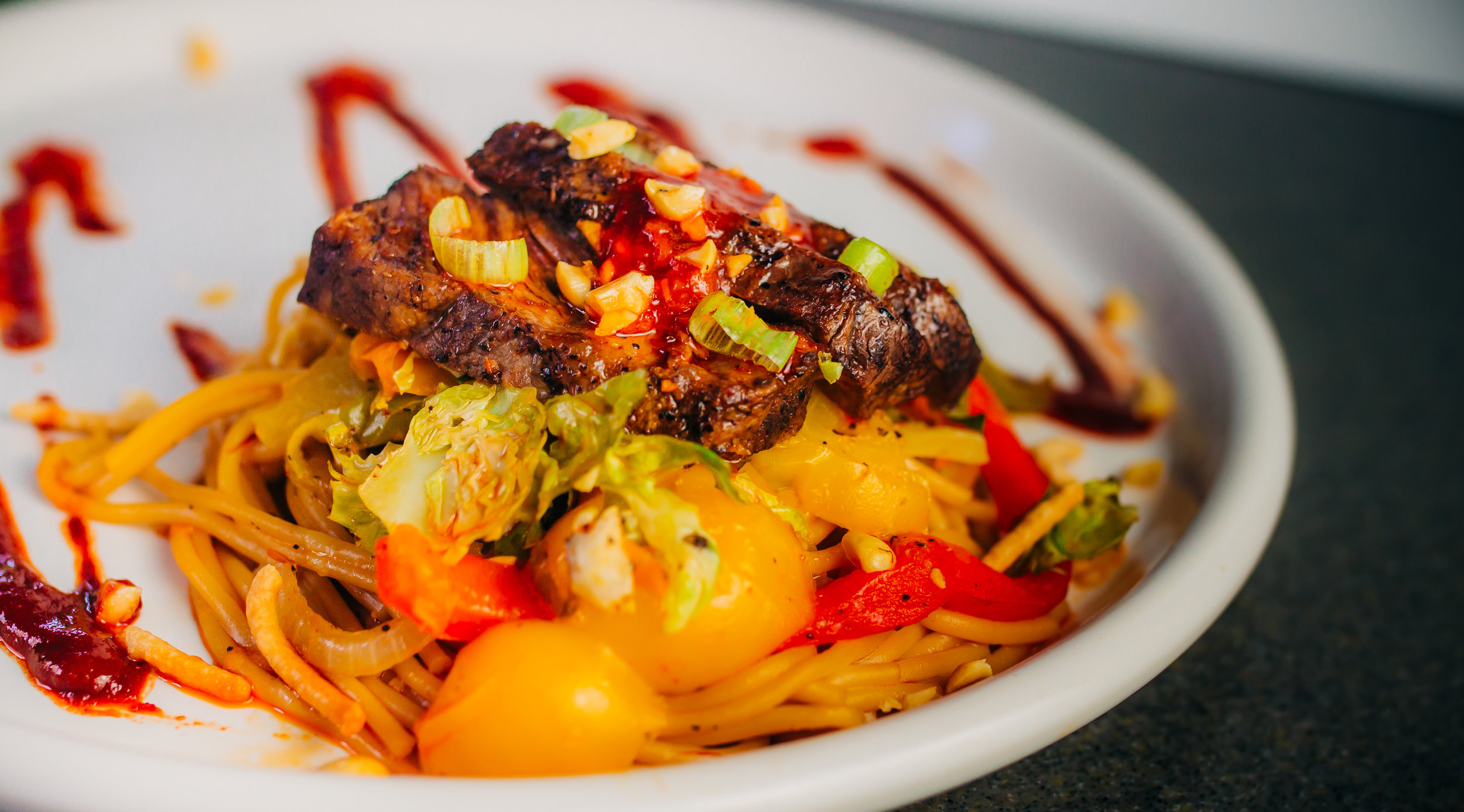 What is your favorite take-out dish? Have you ever tried to make it at home? Comment down below!
Want to see more recipes done for you? Check out my Twitch, I stream Wednesday, Thursday, and Friday at 10 am PST! We do at least 3 recipes, only 1 is ever featured on the blog!

I also do stories on Instagram of recipes that I am working on that might make appearances in the future, go follow that now!

My Twitter will show you all things me, it is a constant brain dump of what is going on with the stream, blog, mental health, and life!